Drip Ring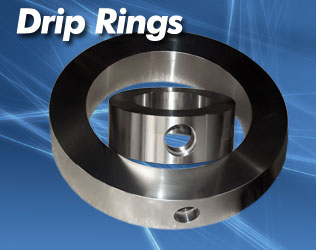 Drip Rings, or Flushing Rings, are used in the oil or gas line. They are coupled between two seals.
The Drip Ring is circular, as a ring, with one or two holes. They may have one or two branches, based the usage that is made for.
In the branch's hole can be inserted instruments: pressure gauge, thermowell or it can be free to allow the drainage of condensate.
In correspondence to each hole the Drip Ring can be welded to a Weldoflange or a branch connector.
La Meccanica Padana manufacures Drip Ring from 1/2" to 24" in different types of materials as follow:
Carbon steel (ASTM 105, A516 Gr. 60/65/70, A350 LF2, A694 F60-65)
Stainless steel (AISI 304, 316, 321, 347)
Alloy steel (AISI Gr.1, Gr.5, Gr.9, Gr.91, Gr.11, Gr.22)
Nickel alloys
Duplex/Super duplex (F51, F53, F55, F44)
Incoloy (800, 800H, 800 HT, 825), Alloy 20
Hastelloy (C22, C276)
Cupronickel Cu-Ni
Monel 400
Inconel (600, 625)
Titanium (Gr. 1, 2, 3)
We manufacture Drip Ring RJ and FF-RF (Class 150/300/600/900/1500/2500) with one hole 3/4" NPT or two holes 1/2" NPT in according to standard TB.DRI 5011 and in according to special customer's requirements.
DRIP RINGS DATASHEETS: